In Character
Full Name:
Brutus Manlius Kettleburn
Nicknames:
Brutie, Manny, Kettleburn. The former two will likely end with his fist in your face. Brute when he is on the Quidditch pitch is also acceptable.
Birthdate:
October 11th, 1865
Current Age:
17 years
Occupation:
Slytherin Beater
Hogwarts House:
Slytherin
Wand:
14 inches, Blackthorn, Dittany Stalk
Blood Status:
Half-blood
Social Class:
Lower
Family:
Caesarius Kettleburn û 83 û Paternal Grandfather
Madeleine Kettleburn nÚe Prince û Deceased - Mother
Damocles Kettleburn û Deceased û Father
Alcimus Kettleburn û Deceased û Brother
Callista Kettleburn û 10 û Sister
Decima Kettleburn û 6 û Sister
Appearance:
Brutus is a boy of reasonable height standing at 6'1" and a fairly decent build for he is somewhat stocky but not bulky, nor is he exceptionally scrawny though he was at one time before Hogwarts when his meals were not so wholesome. His is handsome young boy with dark slightly curling hair that is usually left somewhat long but not too long. His nose is every so slightly crooked from a brawl in which it was broken and he didn't seek medical care straight away and he has a fair few scars from other scuffles ranging from small cut scars on his hands to a rather large scar on his lower back from a particularly nasty run in with a hippogriff as a child.
He dresses rather scruffily seeing as his clothes are often slightly too short for him as he has recently gone through a growth spurt and owing to a disrespect for keeping them in shape, full of holes and the odd patch of dirt. He is right handed and so uses that hand for his wand and his quill.

History: Brutus was born the second and only son to survive infancy to Madeleine and Damocles Kettleburn on a particularly nippy October at four in the morning which helped inspire his middle name 'Manlius' meaning morning. He was a particularly boisterous infant which was a relief to both his parents seeing as his older brother had passed very quietly in the night a few years earlier. He showed his first signs of magic early on in his childhood as his temper being easily provoked caused a window pane to smash. As a young boy, he was not given a great many toys owing to his parents' lack of money and so he eventually turned his attention to fighting. He wasn't particularly good at making friends as a young boy and the muggles he lived near weren't very accepting of him as his occasional fits of accidental magic unnerved them so instead he would get angry at them for not accepting him and fist fights would result. It was not unusual for him to return home with cut lips and bruises. He didn't win his fights for a long time owing to his being smaller and scrawnier than the other boys but he soon learned the best way to defend himself and began returning home with fewer black eyes and scratches.
At the age of seven, Brutus became an older brother as Callista was born the first daughter in the family. Brutus wasn't at all sure what to make of the new addition and decided she wasn't all that interesting. Being an anti-social child as it was, he didn't crave or miss his parents' attention that he now shared with a sister but as his sister grew older, he found her to be highly irritating in that she tried to follow him around and soon it seemed he had to take care of her which wasn't something he wanted to do as the other boys teased him even more for having his younger sister constantly following him places. Eventually, his resentment toward his sister subsided and he came to feel protective over her though he made no outward show of this.
When Brutus was ten, his father took him into a forest where magical creatures resided to collect rare ingredients to sell that would help pay for his education the following year. Unfortunately they came across a stray hippogriff which attacked them both. Brutus' father did his best to protect his son but managed to sustain a large and very deep wound at a main artery and died from blood loss very quickly though Brutus survived only with a cut across his lower back, the scar from which he still has. He was greatly upset by his father's passing though bottled it up inside. His mother, on the other hand, was distraught and consequently the family moved to reside with her late husband's father, Orpheus Kettleburn, the owner of a small apothecary in Knockturn Alley.
It would soon be apparent that there would be a final addition to the family, Decima Kettleburn who would be the last of the Kettleburn children, the birth of which killed Madeleine who had always had difficulty with pregnancy. The three Kettleburns would reside with their grandfather from then onward.
Brutus' Hogwarts letter arrived soon after and a somewhat more somber Brutus, went off to Hogwarts September 1877. He was sorted into Slytherin though he wasn't particularly cunning but he wasn't exactly brave, intelligent or hard-working either and he had just enough Slytherin qualities to land himself in it.
His first few years passed by with minimal problems save for average - poor grades and more than a few fist fights but he found himself a couple friends and worked his way out of his shell a little. In the summers he returned to his grandfather's shop and helped him with it though he found it tedious. It was in his first year that he found himself talented on a broom and while he privately made time to train, he couldn't pluck up the courage to actually try out until the ban on females playing quidditch and the team needing a whole overhaul. It was then that he took up the beater's bat which he has yet to relinquish.


Personality: Brutus rather lives up to his name. He's a bit of a bully and not the smartest person either. His sense of humor also happens to be somewhat impaired and he often takes things too seriously. He is very pugnacious and often feels the need to prove himself either with his fists or his wand. Usually his fists though. He is a loyal friend, however, and will stand beside his friends no matter what.


Out of Character
Name:
Olive
Age:
18
Contact:
Ask and we shall receive
Other Characters:
Many many many
How did you hear about us?:
Giant hamsters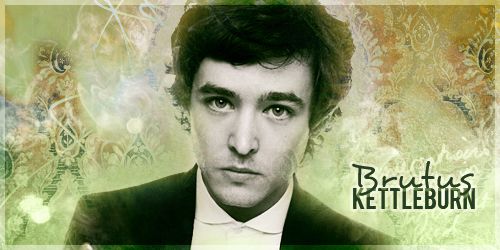 Perfect set all thanks to Té<3