June 21, 2020 – 7:18 AM
This post was last modified: June 21, 2020 – 7:19 AM by Mundungus MacFusty
CHARACTER NAME:
Mundungus Uilleam MacFusty
BECAUSE…
Emily had an ad for him for a fun nemesis turned something else plot with her Pru Browne and I took it.
CREATION DATE:
February 3, 2015 on the old board. March 1, 2018 on new board.
BIRTH YEAR:
1870
PLANNED DEMISE:
Haven't thought on it - likely to be dragon related
HOGWARTS HOUSE:
Gryffindor
BOGGART:
Becoming a werewolf.
AMORTENTIA:
Chocolate, dragonhide gloves, broom polish
PATRONUS:
A dragon
RESIDENCE:
Number Four Orpington Way in North Bartonburg
CLOSEST RELATION:
None played
BEST FRIEND:
@
Handsome Whitledge
comes closest
NEMESIS:
Emily's Prudence Browne, now no one
MOST OFTEN POSTED WITH:
@
Bragi Holm
at the moment, I think? Emily's Pru on the old site.
I DREAM OF POSTING WITH…
other professional Quidditch players
IN THE MODERN AGE…
Hockey player
DURING THE WAR…
They would be in the Order and at the front lines fighting
THOUGHTS ON MUGGLES:
They're all right and should be helped not harmed
THOUGHTS ON BLOOD PURITY:
Whatever, blood all bleeds the same in the end
THOUGHTS ON ARRANGED MARRIAGES:
No thanks!
THOUGHTS ON CLASS DISTINCTION:
It benefits him and he doesn't tend to give it much thought.
PROGRESS SO FAR:
- Gave Rasmus Mohr difficult feelings when Rasmus was grieving.
- Flirted with Glimmer Whitledge (Retconned to be a NPC girl)
- Had a rivalry turned flirtation with Emily's Prudence Browne (retconned to be a NPC girl)
- Was oblivious to the crush Emmeline Woodcroft had on him and enjoyed her friendship.
- Until she started avoiding him after a Cursed Mistletoe Kiss. After which, things never quite got back to normal.
- Tried hitting on @
Acacia Ruskin
once
- Made a pact of sorts with Handsome that they would try out for a Quidditch team together. Both succeeded. Only Munny stuck it out.
- Got onto the first string after a few months.
thanks to an against all odds prize mwahaha
- Moved to Hogsmeade so he could have his own space. Began renting from Bragi Holm.
- Had to battle a boggart in his new home with the help of his landlord whom he finds quite pretty. Proving in an OOC sense that his taste for redheads is not gender-exlusive though he has hardly thought too into this to realize it.
- Tried out for the National Team and got on as a reserve beater.
IMMEDIATE GOALS:
His: continue rocking at quidditch, continue flirting with pretty girls. don't die.
Mine: Marry inappropriately young.
LONG-TERM GOALS:
Become a Quidditch Captain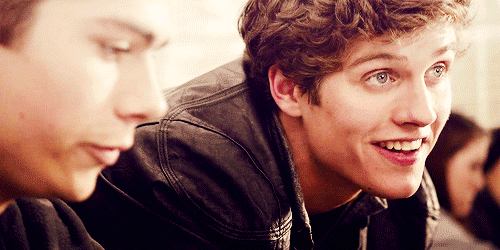 ---