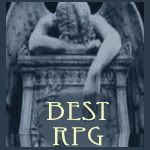 CONGRATULATIONS!
You've been selected by a panel of 6 industry experts as this months winner of the DI:Online Best Forum RP.
Your site has been chosen from hundreds of others as this months winner!
The sites link will be held as part of the sites 'Winner's Gallery' and will be linked in the sidebar.
Congratulations once again!
This is your site code, with you award pip and the link to your sites review

A beautiful site, nicely pale, rather than the ridiculous dark sites that are the vogue at the moment.
--Colin Fife, Web Administrator BBC NI
A beautifully aesthetic site!
--Jesse Williams, Commissioning Chair for Veto Media
A nice idea, it makes a difference from seeing the same old types of site every time. Congratulations, well deserved win.
--Thomas Stone, Asst. Commissioning Editor for Freefall Media
Code:

<a href="http://sites.google.com/site/dantesinfernals/inferals-awards"><img src="http://img.photobucket.com/albums/v606/Enelya/once2/bestrpg1.png" border="0" alt="Dante's Infernals"></a>
((I tried to post in the affiliate section but couldn't find anywhere else to let you know))