In Character
Full Name: Salome Esme Moore
Nicknames: Will answer to Ommie to those she is very close to, will also go by Esme
Birthdate: March 29, 1867
Current Age: 19 Years
Occupation: Unspeakable[
Reputation: 4; for now
Residence: 
Hogwarts House: Slytherin
Wand: fir, 9 3/4", kelpie hair, swishy
Blood Status: Pureblood
Social Class: Lower class
Family: tbd
Appearance: Long willowy limbs make up most of the girl's height, having oddly long legs for her size torso, placing her above average at five foot four, not counting her heeled shoes, which she tends to prefer  pale creamy complexion is only highlighted further by her dark colored hair that favors an almost black color. It not only makes her seem paler, but it brings out a distinct hollowness in her face that has haunted for ages. She requires accident but if sleep for a soon as she can't catch up, the dark circles along with the hollowness creates a near death look which she tends to avoid. Dark brown eyes nearly even to her hair match the look. She thrives off working for the upper class and tends to dress nicer than she like should and used her wand with her left hand.
History: 
A young girl is born to a low-end 
family, oddly silent for a young child. 
Already at four, the girl is proving to be very flexible with what she is willing to do and will try anything.
Salome's first signs of magic appear when she commands
 a heavily used toy to walk.
At this point, to anyone who knows her well, she has already proven to be coy and manipulative and she starts to, at her mother's prompting, work her way ever so slowly making
 herself known at different places. 
Sponsored by a middle class family of fairly well off means, she is allowed to attend Hogwarts where she is sorted into Slytherin and in a few years she has staked out a place for herself as a sweet young girl, innocent and charming, not exactly what she is, but she finds it serves her much better and she is allowed in far more things and places.
Care of Magical Creatures … P
Defense Against the Dark Arts … A
Transfiguration ... O
mid. 1885-present
After graduating, Salome was accepted into the Department of Mysteries as an Unspeakable, where she now works on her second year, attempting to make a name for herself. Though her attention is split between that and trying to jam her foot into society and marry up - she is still a debuante even if she isn't rich enough to worry about marriage - try telling her that.
Personality: flexible. determined. ambitious. manipulative. uncaring.  narrow, one-track mind.
Sample Roleplay Post: Calla's bio
Out of Character
[size=small]Name: Nichole
Age: 17
Other Characters: Calla Potts, Perenia Kaylock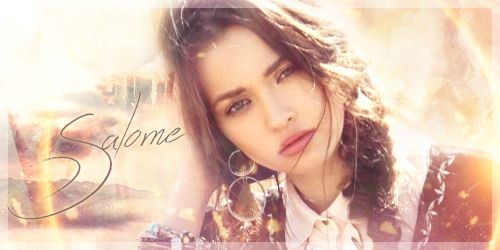 OMG Thank you Nolan it is a beauty!