In Character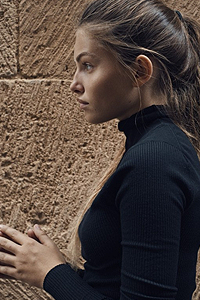 Full Name:
Glimmer Nimue Greer Whitledge
Nicknames:
N/A
Birthdate:
January 4, 1871
Current Age:
16 Years
Occupation:
Fifth Year
Reputation:
5
Residence:
Hogsmeade
Hogwarts House:
Gryffindor
Wand:
Dogwood, kelpie hair, 10 inches, supple
Blood Status:
Halfblood
Social Class:
Upper
Family:
Father | Winston Whitledge, b. 1842
Mother | Frieda Whitledge nee xxxxx, b. 1849
Eldest sister | Glitter, b. 1870
Twin | Glitz, b. 1871
Sister | Gleam, b. 1873
Brother| Glow, b. 1874

Appearance:
At five foot three inches tall, Glimmer is unfortunately too short to be as intimidating as she wishes she were. With brown hair and blue eyes, you can tell she is twins with Glitz, especially when they are next to each other. Glimmer has a square jaw and plump lips. Her nose is slim and not as pronounced as her twin's. She dresses as if not to draw attention to herself in muggle fashions, and in private keeps her long hair down as if she were still a young child. She, unlike her twin, is left handed.
History:
THE YOUNGER YEARS




On January 4th, 1871, nine and a half minutes after her brother Glitz, Glimmer Nimue Greer Whitledge is born. A frail, wailing babe, she is healthy though a twin and the family is doing well. She is, of course, far too young to know the naming trend that her mother has given her children between Glimmer, Glitz, and Glitter. In 1873, Gleam is born and still, at two years of age, Glimmer is too young to notice the naming scheme. In 1874, Glow is born and Glimmer quietly connects the naming scheme but Glitz claimed the discovery. It was after this revelation that the three year old became determined to be an obnoxious thorn in the side of her twin.

Her world as she knew it was turned upside down at age six. It was 1877 and the Muggle Riots took place. Fearing for their safety, her family, and that of her cousins (who also possess the weirdest naming scheme of all!) to Hogsmeade, by design a wizarding paradise. In 1878, she quietly has displays of magic. Embarrassed, she keeps it to herself. This year comments were starting to hit home about the obscurity of the names that she, her siblings, and her cousins possess. Glimmer takes a brief pause from being a thorn in Glitz's side once she realized his feelings on what was being said in the world around them. In 1881, Glitter, Cupcake, and Handsome go to Hogwarts and are all sorted into Gryffindor.

HOGWARTS




The summer of 1882, Glimmer gets her Hogwarts letter along with her twin. On September 1st, she is sorted into Gryffindor and Glitz into Ravenclaw. Glitz, she learns, is bullied for his name. Glimmer, too, is talked about but not to the extent her brother is. She threatens to hex those who tease her. She gets detention. In 1883, cousin Sweetie comes to Hogwarts and is sorted into Slytherin. In 1884, her uncle dies, her cousins's home burns down and they move to Irvingly, and to round it off she starts her third year with the addition of Arithmancy, Divination, and Ancient Runes. Darling comes to Hogwarts and joins Hufflepuff house, and Gleam comes to Hogwarts and is sorted into xxxxx.

In 1885, Glow is the last sibling to come to Hogwarts and is sorted into xxxx. She enjoys all of her classes, and really develops a knack for Transfiguration, a fact that Glimmer keeps secret. In 1886, the youngests of the Whitledge brood, Honey and Knight in Shining Armour come to Hogwarts, but with an unfortunate prank by Peeves, they are only unofficially sorted. Knight joins several cousins and siblings in Gryffindor for the time being, while Honey joins Slytherin house. The Ravenclaw that her twin is, however, starts to wear on Glimmer and his nervousness about OWLs in May start tickling the back of her brain, though Glimmer is hardly worried about the events and decides to annoy him to bits to make him less uptight, as that is how Glimmer views him.
Personality:
determined. brave. annoying. serious-half-the-time. short-tempered. thick-skinned. stubborn.
Sample Roleplay Post:
[At least a paragraph.]
Out of Character
Name: Tiffany
Age: 22