In Character
Full Name:
Senna Glen Potts
Nicknames:
N/A
Birthdate:
July 12, 1863
Current Age:
23
Occupation:
Florist at The Florist Potts
Reputation:
4
Residence:
Thimblewhit Turn, Hogsmeade
Hogwarts House:
Hufflepuff
Wand:
Chestnut, 10 ½ inches, Unicorn Hair, Slightly Springy
Blood Status:
Halfblood
Social Class:
Middle Class
Family:
Basil Potts - Father - b. 1834
Laurel Phillips - Mother - b. 1842
Amaryllis née Potts - Sister - b. 1862
Thistle Potts - Sister - b. 1865
Zinnia Potts - Sister - b. 1868
Daffodil Potts - Sister - b. 1870
Dahlia Potts - Sister - b. 1873
Calla Potts - Sister - b. 1875
Appearance:
An entirely average size, Senna stands at five feet and two inches and boasts a figure neither too buxom nor too boyish. While never considering herself a great beauty, she is - at least - pleased enough with her looks: brown hair edging towards the darker side, grey-blue eyes with long, thick lashes and plump lips that seem to always have at least the remnants of a smile. Not particularly a fashionista, she dresses modestly in muted colors and clothes that balance the functionality of wizards robes with influence from muggle fashions. Her wand is kept always on her person and when she has use for it she wields it in her right hand.
History:
1863 | She is born on a warm summer evening, the second child to Laurel and Basil Potts. With little hesitation at all, she is named Senna Glen and joins her elder sibling in being named for nature.

1865 | Another girl is born and once more she is given a nature name - Thistle. Senna is far too young to have much of an opinion aside from passing curiosity.

1868 | Zinnia is born! At five years old, Senna is decidedly more excited for this sibling's arrival than she had been for Thistle. Only a few months after her birth, Senna expresses magic for the first time by making a stuffed toy dance in hopes that it will soothe her crying sister.

1870 | Another sister is born, Daffodil. She is just as pleased to be made a big sister another time over as she had been with Zinnia.

1873 | Dahlia is born and in the summertime Amaryllis is sent off to Hogwarts.

1874 - 1881, Hogwarts | Senna joins her elder sister at Hogwarts. Upon arrival, the Sorting Hat takes no time at all to deem her a Hufflepuff - a placement that she is pleased with and not at all surprised by. In school she proves to be a hardworking enough student though finds that she is not really naturally gifted at any one aspect of magic. She excels, however, in Herbology and this lends to a skill in Potions as she gets older. Among those, Care of Magical Creatures and Transfiguration prove to be her best classes, along with Divination - a subject she finds interest and enjoyment in despite not having the Sight.

She is in her third year (1877) when her family moves to Hogsmeade and opens up a florist shop on High Street.

When she leaves Hogwarts in 1881, it is with good enough scores though clearly a career outside of working at the family shop is not in her cards - not that she really minds that!

1881 | Adjusting to life outside of Hogwarts as a florist in her family's shop, she becomes ever more intrigued by a worker that her family had hired the year prior. Always considering him a mysterious, handsome sort, Senna's infatuation with him grows easily even though she is terribly awkward.

1885 | Aunt Myrtle dies. That sucks. Aside from mourning and enduring the disastrous summer, Senna is still making heart eyes at Mr. Birch because apparently she can carry a torch.

1886 | Doing her florist thang still and generally eating dirt every time she passes the object of her affection because she is clumsy and awkward enough to trip over a table and faceplant into a plant.
Personality:
A generally happy sort, it is rare to see her features sporting a look that could even halfway resemble somber - even despite her tendency towards awkwardness. Happy enough to engage in conversation, Senna oftentimes finds herself overwhelmed where strangers are concerned and thus many social actions end in her stumbling either verbally, physically or - in worst cases - even both. Even so, she is a friendly and even halfway sociable sort of person, trying to overcome her social impediment as best as she can and - in recent years - even able to get a handle on it to an extent.

A dreamer to the maximum, she spends a lot of time in her head entertaining romantic notions and indeed has an entire story outlined in her mind on what the perfect courtship would be (even if her desired partner is, of course, an unsuitable match for her!). Even with her daydreaming, she can show incredible concentration where things of interest are concerned: botany and herbology, of course, being one of them.

An emotional sort, she is very in tune with her emotions as their sometimes overwhelming nature wouldn't allow otherwise. She is compassionate and empathetic, always willing to lend her shoulder so that one may unload their woes. The excess of emotions she is prone to feeling can leave her rather sensitive and while age has made her learn to soften to effects, it is still not at all uncommon for her to be devolved to tears if a situation is to emotionally taxing for her to handle.
Sample Roleplay Post: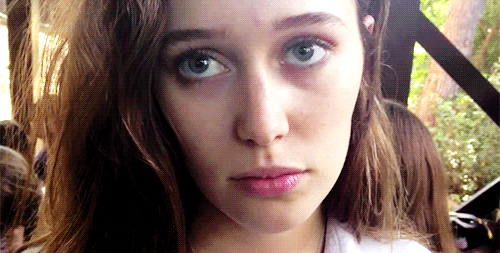 Out of Character
Name: Anya
Age: 24
Contact: PM for skype and such

gorgeous set by tiffany <3