In Character
Full Name:
Phaidra Electra Cinderwell née Glynn
Nicknames:
Phay
Birthdate:
February 23, 1848
Current Age:
38
Occupation:
Lawyer at the Department of Magical Law Enforcement
Reputation:
5
Residence:
Hogsmeade - North Bartonburg, Patience Promenade
Hogwarts House:
Ravenclaw
Wand:
Rowan, 10" even, Phoenix Tail Feather, rigid
Blood Status:
Pureblood
Social Class:
Middle
Family:
Husband | Vester Cinderwell (B. 1840)
Son | Blaine Cinderwell (B.


Father | Glover Glynn (B. 1820)
Mother | Marjorie Glynn née ---- (B. 1827)
Brother | Ionas Glynn (B. 1852)
Brother | Raphael Glynn (B. 1854)
Aunt | Elizabeth Shacklebolt et all…
Uncle | Marshall ---- (B. 1825)
Appearance:
Phaidra stands at a relatively average height of 5 ft. 3 in. and possesses a rather athletic-looking slim build that she adorns with extravagant wizarding robes. Luscious dark brown hair, typically curled or wavy, falls to her neck naturally, which provides a fitting frame for her pronounced cheek bones and oval-shaped face. Her eyes, a dark brown, are one of her more notable features, accompanied by her plump lips and small nose. She has darker skin, though of a lighter complexion, and prefers her left hand when her wand is drawn.
History:
1848 | Phaidra is born to mother Marjorie and father Glover.
1852 | A new baby, Ionas, joins the family. Phaidra is rather saddened because she thinks he's gross.
1854 | Baby Raphael is born. Again, Phaidra is upset, but more so because this was the last sibling she would receive. On the upside, having two brothers meant she would have a strong male presence in her life.
1856 | Phaidra experiences her first signs of magic by causing her aunt's parasol to disappear when she was leaning on it - she had been dared by her brothers to simply kick it but her fear of punishment caused her to refrain. She later got into a heated argument about who actually did it and was able to convince Elizabeth that it had been Ionas, since he was the oldest of the two brothers.
1859 | HOGWARTS LETTER. She is sorted into Ravenclaw. Her first year consists of primarily studying and taking a slight interest in dueling - she had researched the wood her wand was made of and decided to dabble a bit.
1861 | Phaidra takes an interest in history of magic, charms, and DADA specifically and decides to take up ancient studies and ancient runes as her electives.
1863 | Her desires to study pay off come time for her OWL exams, yielding O's in Ancient Runes, Ancient Studies, DADA, Charms, and HoM along with E's in Astronomy, Herbology, Potions, and Transfiguration.
1864 | She decides to continue with Ancient Runes, Ancient Studies, DADA, Charms and History of Magic because they were her stronger subjects and she knew she wouldn't fail herself in studying for them.
1865 - 66 | Phaidra is deeply saddened that she scored an E in Charms on her NEWT exams. She had neglected to study the subject as frequently as the others as she figured she knew it well enough - the other subjects were scored with an O. Regardless, she graduates and immediately pursues a career in the ministry as an intern in the DMLE, putting her argumentative skills to use in a productive way.
1868 | After spending two years as an intern, due to her unsuspecting workload and lack of focus, Phaidra is promoted to the status of a clerk. She has been receiving pressure to marry, however her profession proves too taxing (for her at least) to focus on someone else, so she refrains for the time being.
1869 - 1870 | A year passes and Phaidra is finally promoted to the job of a full time lawyer. She learned to refine her behavior to properly deal with cases and is excited to put her new found skills to the test. She proves to be rather intense, a feature looked highly upon by some of her colleagues, and begins to find it difficult to shut off her brain upon returning home at night.
1871 | After another successful year, she meets a man, Vester, who shares her position. He is equally as driven and shows fair promise, however Phaidra doesn't see a relationship between the two involving any romance. Nonetheless, she is approached and, to please her parents as well as to amuse herself, they begin courting. Managing a personal and professional life proved to be easier than she had anticipated.
1873 | The couple marries in the spring and Phaidra finds herself pregnant shortly thereafter. She gives birth to her first - and only - child Blaine. She had hoped sharing her husband's bed chambers would satisfy his "urges and needs" and prevent any further contact from arising; part of this remained true throughout the pregnancy. As a result of the unwanted birth, she tends to be neglectful to the infant and rarely spends time with it. She dedicates more of her time to her profession, straining the relationship between her and her family.
1875 | Blaine, so foolishly, decides to irritate her by knocking incessantly on her bedroom door. Why the house staff hadn't stepped in remained a mystery to Phaidra, so she took it upon herself to punish him. Utilizing a handy weather charm, a small raincloud appeared above Blaine's head, soaking him, along with the carpet (which she cared little about at this point) for a short duration. He was sent running down the hall throwing a fit.
1880 | Her child had developed enough of a mind to steer clear of his mother, leaving her to her work. Vester and Phaidra spend their nights discussing cases instead of engaging in physical activity; had they even begun touching one another, Phaidra would have made arrangements to sleep elsewhere. It had been an idea for her to sleep in a separate room, though explaining why caused her to refrain. She had previously considered the position of assistant head of the department, however the position filled much too quickly.
1881 | After much consideration and saving, Phaidra convinces her husband to move to Hogsmeade out of convenience. She picks out a rather nice home in North Bartonburg where the Cinderwell's now reside comfily.
1884 | The plague leaves the family unscathed despite Phaidra's wishes of it taking her son. She begins thinking about possibly involving herself in a higher position within the ministry. Blaine receives his Hogwarts letter in the summer.
1886 | With her child no longer primarily in the home, she has finally been able to relax. She encourages him to stay during the holidays, or tells Vester to write him so, and has sought out to apply for a further position of power.
Personality:
Strong, Independant, Vain, Self-Confident, Scheming, a dash of crazy - due to her profession and past, she typically tries to get as much information as possible before she makes her case. As a result, this may include listening in on conversations while being blatantly noticeable. She may also talk to people oddly as if she's trying to get information from them or may say weird things. Her lawyer-brain is hard to turn off in her private life, given that her husband is also one, so they end up bringing their work home, never separating themselves from it. Despite this, her professional attitude is serious and determined; she rarely allows any outside factors to interfere with her decision making and prioritizes her duties in the Ministry often over those associated with her child - though such is known only in private.
Sample Roleplay Post: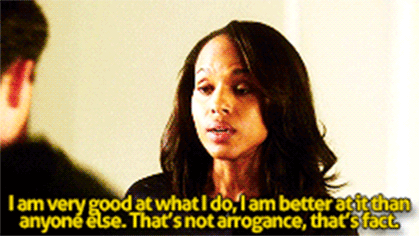 Because that's literally how I imagine her.
Out of Character
Name: Nolan
Age: 21
Contact: Skype me at nolandinview or PM to Theseus Greengrass
Other Characters: Si
How did you hear about us?: Places