This app was last updated on August 29th, 2014.
In Character
Full Name:
Malcolm
Macaulay MacFusty
Nicknames:
Mac, Idjit
Birthdate:
January 3rd, 1858
Current Age:
25 years of age
Occupation:
Dragonkeeper
Hogwarts House:
Gryffindor
Wand:
Spruce, 11", unyielding, dragon heartstring
Blood Status:
Halfblood
Social Class:
Upper
Family:
The MacFusty clan
Donald MacFusty, 54, Father
Griselda MacFusty (nÚe Cockburn), 50, Mother
Kentigern "Kenny" MacFusty, 32, Brother
Torquil "Tor" MacFusty, 30, Brother (twin)
Tavish "Tav" MacFusty, 30, Brother (twin)
Hamish "Hammy" MacFusty, 29, Brother
James "Jamie" MacFusty, 28, Brother
Roderick "Roddy" MacFusty, 27, Brother
Ninian "Ninny" MacFusty, 26, Brother
Gilroy "Gilly" MacFusty, 22, Brother
Angus "Gus" MacFusty, 20, Brother
Mungo "Stumpy/Dunny" MacFusty, 17, Brother
Malvina Donaldina MacFusty, 16, Sister (6th Year)
Robert "Rabbie" MacFusty, 11, Brother (1st year)


Appearance: Mac is 5'11.5" tall and 175 pounds. He's muscular and loud, with a tendency to walk quickly. Mac has dark brown, slightly messy hair, and occasionally has a thin layer of stubble on his face. He uses his right hand for wandwork and writing, and had several scars from various dragon-or-idiocy-related incidents.

History:

1858: Malcolm MacFusty is born the eighth child to Donald and Griselda MacFusty. He shares a birthday with his older brother, Hamish.

1860: Mac's younger brother Gilroy is born. Mac finds his younger siblings very interesting, and occasionally tries to herd them into doing what he wants.

1861: Angus MacFusty is born.

1862: Mac shows his first sign of magic after he accidentally lights some curtains on fire while bored.

1864: Mungo MacFusty is born.

1865: Malvina MacFusty, the first and only girl, is born. Mac is intrigued.

1869: Mac receives his Hogwarts letter and is, to no one's surprise, sorted into Gryffindor. He likes Defense Against the Dark Arts but is utterly abysmal at Potions.

1870: Rabbie MacFusty is born. In his second year, Mac joins the Gryffindor Quidditch Team as a chaser.

1871: Mac selects Care of Magical Creatures and Arithmancy as his electives. He is decent at Arithmancy and very good at Care of Magical Creatures.

1872: Mac has a rather uneventful fourth year. He begins to play exploding snap when he's bored, and starts trying to get his brothers (and sister) to play Quidditch with him regularly.

1873: OWL year begins. Mac spends a lot of his time either in a state of smooth relaxation or panic.

1874: Malcolm sits his OWLs and receives a T in Potions, O in DADA, Arithmancy, and Care of Magical Creatures, E in Transfigurations, D in History of Magic, and an A in Astronomy.

1875: In the beginning of his seventh year, Mac suffers a concussion from tumbling out of a tree. He reluctantly relinquishes his position as chaser in order to focus on NEWTs and due to this injury, but plays second-string for the entirety of the year. Upon graduating, Mac joins the family business and loves it.

1878: Mac is made dragonkeeper and put in charge of two dragons, one of whom moves to the territory with him. He names the male Gawain and the female Mordred, after two characters in Arthurian legends.

1879-1882: Mac amuses himself with his dragons, and keeps in contact to various degrees with his friends. He gets better at exploding snap and only sometimes loses his eyebrows. When girls are kicked off the Hogwarts quidditch teams, he pitches a fit - and is still periodically enraged.

1882: In March, Mac duels against - and then sleeps with - one Miss Roxana Rios. When she discovers that she is pregnant, they promptly tell everyone that they eloped, but do not actually bother to do so though they are cohabitating. In December, she delivers Miss Isobel Lorena MacFusty.

1883: Roxana drops off the face of the planet. Mac spends a week and a half avoiding his life problems by staying in Hogsmeade with a friend, where he runs into Miss Imogen Van Helsing, a friend from school. Mac and Immie begin interacting more often - possibly because they both have young children - and at a Christmas party at her family's home, Mac kisses her. They decide that it's easier for the both of them to not do the romance thing.

1884: Mac is enraged to discover that his brother, Torquil, is cheating on his wife - a wife who has been friends with Mac since they were children. He promptly breaks his brother's nose. In July, Mac goes to the Van Helsing home in Bavaria - and he and Imogen decide to elope. They return to the country in August, and promptly inform their respective family members.

Personality: Very much a Gryffindor, Mac is marked by occasionally rash behavior. He enjoys getting people to join him in quidditch games and works on things in massive spurts of energy followed by large periods of inactivity. Mac has a 'try anything once' sort of personality and is not super good at following rules. He's an extrovert and decent at leading and very, very loyal to his family.

Sample Roleplay Post: You got it.

Out of Character
Name:
Beanie
Age:
15
Contact:
ugh you have them
Other Characters:
see the cml
How did you hear about us?:
lola's fault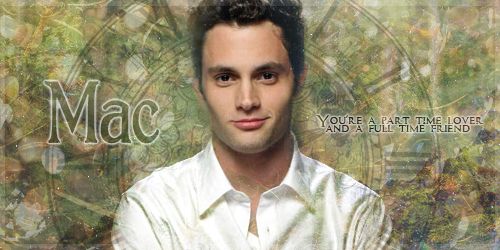 SET BY JENNY