Hello, My Name Is Beanie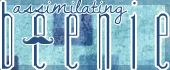 Some stuff:
PM Cassius Lestrange any and all inquiries.

If I'm not in cbox and you need me, lots of people have my number.

If that's an issue for whatever reason, skype is a relatively handy way to get ahold of me.

I try to reply promptly but I'm also a full-time student and sometimes I get ahead of myself.

Sometimes threads slip through my brain-cracks - just give me a shout if you think that's the case, I promise I won't mind!

If you're starting me a thread please tag Cassius Lestrange & the account in question.

I got the quotes idea from Soph.

I got my postlog codes from Andy.
I just moved to a new country!
set by MJ!