Ship Captain & Merchant
33 year old Halfblood
6 ft 2 in ❤ Complicated
played by Hawke
44 Posts

PROFILE
REPUTATION
PLAYER
STAMPS
EXTRAS
PROFILE
Full Name:
Shawn Ronan Delaney
Nickname(s):
Birthdate:
January 23, 1855
Age:
33
Occupation:
Ship Captain & Merchant
Blood Status:
Halfblood
Residence:
London
Hogwarts House:
N/A [Ilvermorny - Wampus]
Wand:
Hawthorne, 10.5", Rigid, Wampus Hair
Family:
Joseph Delaney - Father, Founder of Delaney Imports [b.1825]
Christianne Delaney neé Fredericks - Mother, Seamstress [b.1829]
Jeremy Delaney - Brother, Manager of Delaney Imports [b.1851]
-and family
Marcus Delaney - Brother, deceased [b.1853 d.1858]
Lincoln Delaney - Brother, deceased [b.1859 d.1860]
Anthony Delaney - Brother, healer [b.1863]
Leonard Delaney - Brother, deceased [b.1866 d.1866]
Caroline Delaney - Sister, debutante [b.1869]
APPEARANCE
Tall, broad and scruffy, most would assume Shawn to be a rugged mountain man. However, the man has spent the majority of his life on the coast or on the sea. Standing at a height of six foot two inches, he towers over most men though height tends to run within his family. His chest is wide and muscular with arms that look as though they could crush anything he decided to wrap them around. Having a harder disposition than his elder brother, it made sense for him to be the Delaney son to spend his adult life on ships and he built his body for such tasks. Along with rigid muscles, well earned scars mar his frame though are only noticeable on his arms unless he's seen naked. Despite hours in the sun, his hair remains a dark shade of brown with a full beard often being a shade or two darker. He's rarely seen without a full beard but does prefer to keep it trimmed and neat whenever he's on land. His eyes are an odd shade of blue that almost appear grey at times. His clothes are befitting of his station in life though he rarely wears wizard robes. He prefers simple garb that isn't overly restricting and allows him to move about easily. He wields his wand with his right hand but is capable of using his left if necessary.
Playby- Jamie Dornan
PERSONALITY
Strong. Independent. Cold. Determined. Intelligent.
OTHER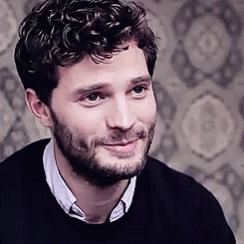 HISTORY
Pre-birth: Joseph Delaney immigrated to America in 1845 to escape the Great Famine though he was the only member of his family to survive the trip overseas. Having grown up on the coast of Ireland, Joseph was well accustomed to life around the docks. He quickly put his skills to use along Boston's coast. Within the first year, he'd made a name for himself with ships coming into the coast as being quite savvy with ships. With the help of one particularly wealthy merchant, Joseph was able to get the financial backing to start up an Import business. It was also with that same merchant he came to be introduced to Christianne, the beautiful young woman being the merchant's daughter. They were married before that first year was over and gave birth to their first son in 1851 with another son to join him in 1853. Though Joseph would deny it was a love match and simply for the sake of business, it was obvious by the interactions between the two that a love was surely to be found. And so began the legacy of Delaney Imports.
1855: A third son is born, Shawn Ronan. He's a hale and hearty boy, loud and intent on making himself heard from the start.
1858: Marcus, the second Delaney boy, wanders off during a shopping excursion. Being an adventurous Delaney boy, he ends up meandering by the docks. As fate would have it, he goes into the bay and drowns. It leaves the Delaney family shocked but instead of wallowing in sorrow, the remaining Delaney boys are quickly taught to swim with Shawn taking to it like a natural.
1859: Another son is born, Lincoln, though he is born prematurely and struggles to remain healthy.
1860: After a particularly rough winter, Lincoln passes away. Christianne struggles with the loss of yet another child and love between her and Joseph is shown as he dotes on her. At five years old, Shawn shows his first signs of magic by creating an invisible barrier from the rain falling down so he continue to play with his toy boats outside.It backfires, however, and he's instantly brought inside to hide the show of magic.
1862: Jeremy leaves for school where he finds himself as a Horned Serpent.
1863: Another Delaney boy is born, Anthony. He's healthy and thrives, giving the family hope they'll manage to keep another child. Shawn is actually quite interesting in the squalling child. Shawn proves to be quite the help with his young sibling.
1866: Shawn leaves for school and finds himself in a different house than his brother but finds himself in Wampus. The different houses make sense to the boys, however, as Jeremy showed for more inclination for books and learning while Shawn had always been the more adventurous and reckless of the brothers. While the eldest Delaney boys are away at school, another brother is born though he only lives a few days before dying.
1869: One final Delaney child is born just days after the boys return home from school. A girl is finally welcomed to the family, Caroline. Jeremy, having finished school, begins working with Joseph in the thriving Import company. He takes to the books like a pro and it is clear he'll take over the company easily enough when Joseph sees fit to retire. Shawn is a bit upset when it is time for him to return to school, having taken to his little sister much as he had to Anthony when he was born.
1873: Shawn graduates but does not do well being cooped up at the offices of Delaney Imports. He's often found having snuck off to check out the ships that come to dock and carousing with the men aboard the ships. It doesn't take long for Joseph to realize that it is where his son belongs instead. A deal is negotiated that results in Shawn remaining on the coast for the remainder of the year learning the ins and outs of running a ship and a crew with the promise of going out to see the following spring when the weather is at its prime for runs.
1874: It's Anthony's turn to leave for school, and as seems to be tradition, finds himself in a house that differs from his brothers. As as sensitive boy with a big heart, he becomes a Pukwudgie. Shawn is loathe to not be there to see his little brother off for school but he had already left for his first trip hauling a variety of goods from the American coastline destined for England. His first trip goes quite smoothly.
1877: Joseph approaches Shawn with a job, one that he exaggerates to be quite important. A rather wealthy customer was paying the Delaneys a pretty hefty purse to deliver some goods with the utmost discretion. The goods are not to be named though it is evident they're less than legal. Shawn, never one to turn down a challenge, easily accepts. The trip is far rougher than any he's taken before, having to deal with early fall storms. The trip ends up successful, however, and results in many more like it with Delaney Imports quickly becoming a favorite source for less than legal shipments to be used.
1880: Caroline leaves for school and finishes out the "tradition" and finds herself a Thunderbird. There's little surprise by the family as she had proved to be quite adventurous like Shawn though with more subtlety and calm than her brother. Not long after Caroline returns for the holiday break, Shawn meets a young woman. He's instantly taken with Imogen Van Helsing and begins a tentative courtship.
1881: Anthony finishes his schooling and quickly immerses himself into the world of a healer.
1882: Halfway through the year, Shawn proposes to Imogen and she accepts. Once back in Great Britain, Shawn realizes there is actually quite a lot he doesn't know of his soon to be bride's life. Like the large family he finds himself being introduced to. He becomes a bit more guarded from her by then, even cold at times, though a wedding date is set for June of the following year. That way there would be plenty of time to arrange things and get his family across the ocean for the grand event. The relationship hits an icy patch, however, as Shawn struggles with his worries over marrying someone he feels he may not know as well as he had thought. Not to mention his own secrets of where his family's wealth truly comes from. When he receives a letter from his father about a local customer needing something brought back to Boston and willing to pay a hefty sum, he tells Imogen he needs to see to the last job before the wedding but promises to be back by the wedding date in June. Accommodations are made and he leaves shortly after the new year.
1883: On the voyage back to the states, Shawn's ship is taken by the very man that had hired his family's company for transport. A trap from the start to take the goods for free and hinder Delaney Imports, the resulting fight leaves Shawn with a head wound that leaves him unconscious for an extended period of time. Seeing the potential in him as a worker and for possible ransom, they keep him on as part of the crew and he proves to be a rather handy shipmate with his strength and being able to pick up easily the tasks that need done.
1885: After having stopped in at the Boston port to replenish supplies, the familiar sights seem to trigger something in Shawn's mind. Though he doesn't get all of his memories back instantly, little bits begin to trickle in as time goes on. He keeps the realization to himself though, feeling as though he would be in danger if it was known his memory was coming back.
1887: The ship he's on ends up being forced to dock at Boston at the beginning of the year due to inclimate weather. It's there he realizes exactly who he is thanks to seeing the sign of Delaney Imports. During a trek to one of the dockside pubs, he meanders away from his group of comrades and walks into the import office. In a moment he'll never forget, his father dropped a stack of paperwork at the sight of him. Never an overly affectionate type toward his son, in a matter of moments Shawn was wrapped up in his father's arms. A long night is spent filling Shawn in on what had happened in the years since his disappearance. It wasn't until then that he fully remembers Imogen. It takes some time for him to come to terms with the fact that he had had a fiance, for she surely had moved on with her life. It isn't until later in the year when Caroline convinces him that there could very well have been a chance that Imogen was still waiting for him. As such, he decides he at least has to go and try to find her. Caroline, always the cunning and adventurous one, begs to go with him claiming he wouldn't have even considered it if it hadn't been for her. Never being one to tell his sister know, he relents so long as their parents approve.
1888: After a few months of preparation and convincing, Shawn and Caroline depart from Boston and head to Hogsmeade. One to find his long lost love and further the family's import business and the other to find some grand adventure in an unknown land.
YOU LIKELY KNOW...
Shawn is an American. He is a merchant on a ship.
YOU MIGHT KNOW...
He had ties to Imogen Macfusty.
YOU DON'T KNOW...
He was lost at sea for several years.
PLAYER INFORMATION
Played By:
Hawke
Contact:
PM
Plot Preferences:
Networking:
Registration Date:
February 28, 2018
Date of Birth:
January 23
Local Time:
December 17, 2018 at 10:49 AM
Status:
&nbsp •
Joined:
February 28, 2018
Last online:
November 10, 2018 – 1:45 AM
POSTS
44 (0.15 posts per day | 0.2 percent of total posts)
(Find All Posts)
THREADS
5 (0.02 threads per day | 0.17 percent of total threads)
(Find All Threads)
MISC.
Time Spent Online
17 Hours, 5 Minutes, 23 Seconds
Members Referred:
0
Shawn Delaney's Signature
Help me, it's like the walls are caving in
Sometimes I feel like giving up, but I just can't
it isnt in my blood
Coding thanks to Lynn!
Shawn Delaney's Most Liked Post
Sorry, Shawn Delaney has no liked post at the moment.