Firebreather
33 year old Halfblood
6 ft. 0 in. ❤ Unattached
played by Kit
3 Posts

Huojin Liu

PROFILE
REPUTATION
PLAYER
STAMPS
EXTRAS
PROFILE
Full Name:
Huojin Liu
Nickname(s):
Jin
Birthdate:
September 6, 1584
Age:
33
Occupation:
Firebreather
Blood Status:
Halfblood
Residence:
Elsewhere
Hogwarts House:
Did not attend
Wand:
cedar, 13", fwooper feather, swishy
Family:
Abandoned by his biological family as a baby, Huojin is estranged from them and truthfully, has no idea who they are as he was too young to remember them when they abandoned him. He was taken in by carnie folk that he sees as being his family and he is still in contact with them despite the fact that they've retired.
APPEARANCE
Huojin's appearance makes it quite clear that he is of Asian descent. He is a
metamorphmagus
and thus can change his appearance at will. Normally, his eyes are dark brown but to add to the mystery of the carnival and himself, he sometimes changes them to gold cats eyes. His hair is black. He often wears a bit of makeup and eyeliner. Even when not performing, he tends to prefer clothing that is on the more flamboyant side of things and he is fond of a bit of glitter and shine. He is right handed.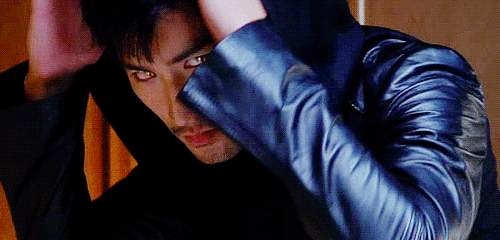 PERSONALITY
Flamboyant. Energetic. Cunning. Flirtatious. Sociable.
OTHER
- is very indiscriminate about who he ends up in bed with. He's smart enough to know that he shouldn't actually get caught with a member of the same sex so he's careful about that part of things but he also is pretty uncaring about how flirtatious he gets with them, even in public.
HISTORY
1854
: Huojin is born as Xing Zhi and it becomes entirely too obvious that the newborn babe wasn't exactly normal when his hair and eyes keep changing color. Uneducated about metamorphmagus's, his parents believe solidly that he is a changeling or a demon and abandon him. He is eventually found by a carnie couple that were moving through the area with their magical troupe. They dub him Huojin Liu, a name that means "fire god".
1860: Huojin shows signs of magic and his foster father begins teaching him magical basics. More importantly, this is the year that Huojin decides that he wants to be a firebreather partly to honor the name that his foster parents provided him with and his training in that begins.
1865: Huojin gets a letter from Hogwarts but since he's always on the move, it would not make sense for him to go so it gets ignored. Besides, he learns what he needs to know from various members of the troupe.
1871: Huojin's coming of age is celebrated by his foster father passing a worn out pocket watch to him and a night spent with a fellow carnival worker that he had taken a fancy to.
1872-1879: The next years of Huojin's life is pretty standard for a carnie. They travel about, perform, leave. Huojin takes great advantage of this lifestyle and is also more than a bit of a ho as he greatly enjoys carnal activities.
1880: Huojin's parental figures retire and for a while the three settle into one place. While the older two are content to settle in one place, Huojin is too young for that nonsense and it isn't long until he is restless. When the Summer Solstice Festival rolls through the town that they had settled into, Huojin leaves with it.
1884: The carnival stops in Hogsmeade and Oh Boy. The laughing plague happens and a whole bunch of death occurs. Huojin is quite happy to not return to Hogsmeade for a good long while when they are finally able to leave.
1886: Huojin has some lady claiming that she got her pregnant. The math doesn't add up though and it turns out she was just trying to pin it on him. It's quite a scare though and for a long time, Huojin sticks with sleeping with males.
1888: Huojin is among those bringing the Summer Solstice Festival back to Hogsmeade. He reports for quarantine though isn't quite pleased with being confined. At least some of the Hogsmeade Hospital staff are fun to look at.
YOU LIKELY KNOW...
Huojin is a carnie and was among those that were here back in 1884 when the SSF killed everyone with the laughing plague by accident.
PLAYER INFORMATION
Played By:
Kit
Contact:
PM, skype, discord
Plot Preferences:
Networking:
Registration Date:
June 3, 2018
Date of Birth:
February 19, 1988 (30 years old)
Local Time:
November 20, 2018 at 4:20 PM
Status:
&nbsp •
Joined:
June 3, 2018
Last online:
September 1, 2018 – 12:52 AM
POSTS
3 (0.02 posts per day | 0.01 percent of total posts)
(Find All Posts)
THREADS
2 (0.01 threads per day | 0.07 percent of total threads)
(Find All Threads)
MISC.
Time Spent Online
2 Hours, 10 Minutes, 47 Seconds
Members Referred:
0
Huojin Liu's Most Liked Post
Sorry, Huojin Liu has no liked post at the moment.