Employee in the Department of Magical Accidents & Catastrophes
19 year old Halfblood
5 ft. 3 in. ❤ Unattached
played by Beanie
123 Posts

PROFILE
REPUTATION
PLAYER
STAMPS
EXTRAS
PROFILE
Full Name:
Zelda Ophelia Fisk
Nickname(s):
Zelly, Zelly Belly (OOC)
Birthdate:
August 18th 1868
Age:
19
Occupation:
Employee in the Department of Magical Accidents & Catastrophes
Blood Status:
Half
Residence:
North Bartonburg, Hogsmeade
Hogwarts House:
Hufflepuff
Wand:
Mahogany, 11", firm, Phoenix Feather
Family:
Brannon Fisk | Father
Delia Fisk nee --- | Mother | d. 1884
Ari Ajax Fisk | Brother |
Ari's middle name comes from the Iliad.
Julian Aramis Fisk | Brother |
Julian's middle name comes from the Three Musketeers.
Katia Rosaline Meadowes nee Fisk | Sister |
Katia's middle name comes from Love's Labours Lost.
&nbsp
and family
Ellis Konstantin Fisk | Brother |
Commonly called 'Konstantin,' Ellis' middle name comes from Anna Karenina.
Roslyn Marian Ross nee Fisk | Sister |
The wife to the newest Minister, Ros' middle name comes from Robin Hood.
&nbsp
and family, incl. Minister Justin Ross
Leonid Jean Fisk | Brother |
Xena's twin, Leonid's middle name comes from Les Mis.
Xena Cosette Fisk | Sister |
Leonid's twin, Xena's middle name comes from Les Mis.
Dorian Gareth Fisk | Brother |
Dory's middle name comes from Idylls of the King.
Nemo Cheshire Fisk | Brother |
Nemo's middle name comes from Alice in Wonderland.
APPEARANCE
Zelda stands at the mostly average 5'3". She has a wide, toothy smile that she is quick to show off. She also possesses gray eyes. Zelda is right-handed. She wears simple, neutral colors, with the occasional bright green or gold. Most of her dresses are remade from fabrics previously controlled by her older sister, Xena. Although Zelda is usually well-dressed - especially now that her family has been launched into notoriety by Ross' election - her dresses are very much appropriate to her class. At work, she always has a Ministry badge dangling from her neck. Her hair is usually done up in a simple braid, unless she has been dragged to some event or another.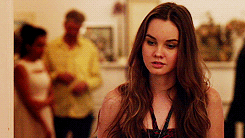 PERSONALITY
STUBBORN | ENTHUSIASTIC | LOYAL | INSECURE | COMMITTED | CONTRARY
OTHER
Religion
The Fisk family is Jewish. Although Zelda is not
particularly
religious, she does celebrate Jewish holidays, and went to Temple with her mother when they lived in Ottery St. Catchpole. Now that her mother is dead she goes much more rarely, but can be found in the Ottery temple once or twice a year regardless.
SKILLS
Zelda is particularly skilled in
Transfiguration
and untransfiguration, both of which are very useful for her job.
She received N.E.W.T.s in
Charms, Transfiguration, DADA, Ancient Studies, and Potions.
EXTRA NOTES
* Zelda is an enthusiastic fan of the Chudley Cannons.
* She is an occasional duelist.
* She has her apparition license.
HISTORY
1868:
Zelda Ophelia Fisk is born. Her parents agree that she must be the last Fisk child, as any more than ten would just be too much.
1873: Dory, Nemo, and Zelda get in trouble for going on 'an epic adventure.' What actually happens is that they all tried to ride a canoe they stole from the neighbor on the pond in town, and it capsized because small children should not captain vessels. Zelly demonstrates magic by relocating them all to shore in a blink of the eye. Boats are banned by Brannon from here on out.
1874: Katia marries in July. Ze decides that she wants to be a pirate, only to be told that girls can't be pirates. (And that piracy is not at all a respectable occupation.) She throws a formidable fit, and Leonid pacifies her by having 'sword duels' with sticks in the yard for the rest of the summer.
1875: Zelda decides that if she can't be a pirate then damnit she'll just have to be a knight. Her father decides that she needs female friends, and Zelda is forced to socialize with the older twin neighbor muggle girls who she spends far too much time trying to scare. Eventually, she rebels by hiding in the family attic for five hours to avoid them, and Brannon decides that maybe he should find her some friends of a similar age instead. Zelda does not appreciate forced playdates with his coworker's daughters, either, but at least they can talk about Quidditch. In September, Dory goes to school, and Nemo and Zelda are quite bereft in his absence.
1877: Marlena graduates and, a few months later, announces her engagement to an immensely cheerful fellow. The pair marry in December. In a spiteful mood after the wedding for some reason or another, Zelda professes that she shall never marry - in a few years, she actually becomes serious about such words. Nemo goes to school. Zelda is not at all pleased about his abandoning her, and spends a great deal of her September sulking.
1879: Finally, Zelda goes to Hogwarts. She is sorted into Hufflepuff for her overwhelming sense of loyalty, and spends much of her first year working hard to become friends with a group of boys in her year and house. (No more groups of forced playdates for her, thank you very much!) She is quite thrilled when she is successful, and adores all of 'her boys' almost as much as she enjoys the rebellion that being friends with them is.
At first against her better judgement, she also befriends some of her roommates and yearmates. In June, Xena debuts, and announces her intention to marry up. Brannon becomes married to the idea of both of his youngest daughters doing so. Zelly is about as thrilled as could be expected, that is to say, not at all.
1880: Xena becomes engaged for the first time.
1881: Xena's engagement falls through for reasons Zelda does not entirely understand. (But more on that later.) She only gets that she is
not
supposed to talk about it and, for more or less the first time ever, she feels very terrible for her sister. But, to be honest, she is more concerned about her Bat Mitzvah, which falls only a few months after The Incident and is really very embarrassing for her.
Zelda selects Care of Magical Creatures and Earth Magic as her electives, because they are the least ladylike things that she can think of. Girls are banned from Quidditch in the Fall and she is filled with righteous fury.
1882: Dory finishes his schooling. Julian loses his leg in some sort of accident, and moves to Hogsmeade. Zelda visits him quite often.
1883: Zelda is, to her pleasure and no one's surprise, not named Prefect. Girls are allowed to play Quidditch again but Brannon will not let her, no matter how much she needles, nags, harasses, begs, or fights him.
1884: Early in the year, Delia convinces Brannon to move to Bartonburg. What fun! Except the Plague strikes Hogsmeade that summer and Delia dies, leaving Zelda without a mother when she is at an age that she very much needs one. Her lifeline, so to speak, becomes an intern in the office of Magical Accidents and Catastrophes on the recommendation of an older member of the department. This becomes a point of contention with her father, and especially in the aftermath of her father's death Zelda realizes just how
little
her father understands her. Hers is a muted personality when she returns to Hogwarts for her sixth year, although she eventually regains most of her general 'pep.'
1885: Although she cannot participate in Quidditch as a
player
, Zelda becomes the commentator for the duration of her seventh year. Haha.
1886: Sees Xena kidnapped as part of some weird werewolf conspiracy, and Zelda is
relieved
when her sister turns up alright, although they have never entirely gotten along. Later in the year Zelda graduates and joins the Magical Accidents and Catastrophes staff after a very mediocre showing at the Hogwarts Coming Out Ball. At the end of the year, she has her first run-in with Mr. Charlie Williams.
1887: Zelda meets Mr. Williams again at the casino for a work thing, and finds herself quite charmed by him. She further runs into him at balls she is forced to attend and is already head-first in a crush when he saves her life at the World Market. She is
nearly
in love with him then, and convinced that he likes her -- which makes the revelation she is forced to confront at the end of the summer even more disastrous. Mr Williams isn't really Mr. Williams. He's really Lupus Jameshill, Xena's fiance who
apparently
never died. Zelda is confused - and angry - and even more awkward around her sister
and
her father.
Also, her brother-in-law is elected as Minister, making Zelda's family slightly more famous than she'd prefer, and resulting in an almost unfortunate amount of event invites.
Toward the end of the year she meets Mr. J. Alfred Darrow, who is too awkward and famous to be fake, at least. Still, she wishes she wasn't forced to kiss him under the mistletoe. Yikes.
YOU LIKELY KNOW...
* Zelda's brother-in-law is Minister Ross.
* A Fisk. Brannon, Konstantin, Dorian and Nemo are in the Ministry. Ari is in Hogsmeade Hospital. Katia, Roslyn and Xena are in society.
* Zelda works in the Ministry, unlike her sisters.
YOU MIGHT KNOW...
* Zelda has been rumored once or twice to be inappropriately ~around men.
* Zelda is awkward at society functions.
* Of all the Fisk kids, Zelda is the biggest pain in Brannon's ass.
YOU DON'T KNOW...
* Zelda fell in love with Lupus Jameshill, her sister's "dead" ex-fiance. Only Xena, Brannon and Lou know this.
* Zelda lost her virginity to J. Alfred Darrow in April, 1888.
PLAYER INFORMATION
Played By:
Beanie
Contact:
PM for skype
Plot Preferences:
Networking:
Registration Date:
February 1, 2018
Date of Birth:
Not Specified
Local Time:
November 20, 2018 at 9:21 PM
Status:
&nbsp •
Joined:
February 1, 2018
Last online:
October 8, 2018 – 3:09 AM
POSTS
123 (0.42 posts per day | 0.59 percent of total posts)
(Find All Posts)
THREADS
5 (0.02 threads per day | 0.18 percent of total threads)
(Find All Threads)
MISC.
Time Spent Online
1 Day, 19 Hours, 13 Minutes
Members Referred:
0
Zelda Fisk's Signature
set by MJ
Zelda Fisk's Most Liked Post

Post Subject

Numbers of Likes

RE: Memorable Quotes

4

Post Message

Lauren: If you scroll though B quickly enough they look like an awkard family
Two daughters and a son, dad's son from first marriage, parents who Do Not Have Sex Anymore and mom's gf, who is the reason for the previous
It's a sitcom waiting to happen

---